A salubrious swarm of hoteliers and industry gathered last night at The Star to honour the best venues and individuals at the 2015 AHA NSW Awards for Excellence.
There were stand-out winners both expected and unexpected from the line-up of nominees, amid a year of exemplary efforts and best-ever business practises.
The indomitable Merivale took home no less than five awards, including Best Fine Dining Restaurant and Best Overall Hotel – City for Establishment.
Solotel appeared on a string of finalist lists, taking Best Entertainment Venue for work at the Golden Sheaf, but one of the highlights of the night was Bruce Solomon accepting one of the two Hall of Fame awards presented, with the veteran taking a big swipe at the so-called 'lockout' regulations – accusing the State Government of "killing" the area.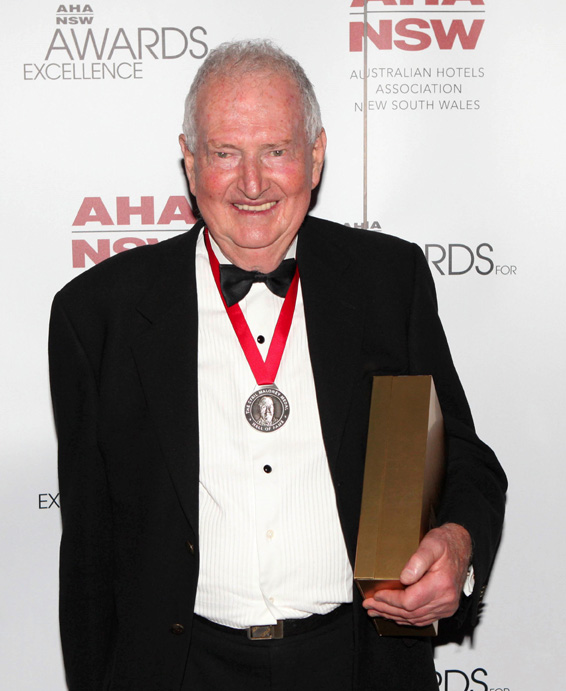 The Waugh's flashy new Collaroy Hotel was similarly runner up in a handful of awards, but did walk away with Best New/Redeveloped Hotel and Best Cocktail Bartender.
The north coast's Kingscliff Beach Hotel was a big winner, snatching Best Sports Bar, Best Pub TAB, and Best Keno Venue – Country.
But the real stand-out winner of the night was the humble and fortuitous Lucky Hotel, in Newcastle. Itself undergoing a major 2015 renovation in the past 12 months, The Lucky was awarded Best New/Redeveloped Hotel – Country, Best Pub-Style Accommodation – Deluxe, Best Burger, Best Individual Hotel Operator for Hayley McCloy, and Overall Hotel of the Year – Country.
Rolly De With's The Junction Hotel also took awards for Best Casual Dining Venue – Country Northern, and Best Pub-Style Accommodation – Traditional.
Shane Jacobson, star of the 2006 dry comedy about the portaloo industry – Kenny, was also proud to see The Junction get the underrated honour of Best Bathroom Facilities, which it shared with the recently overhauled Charring Cross Hotel.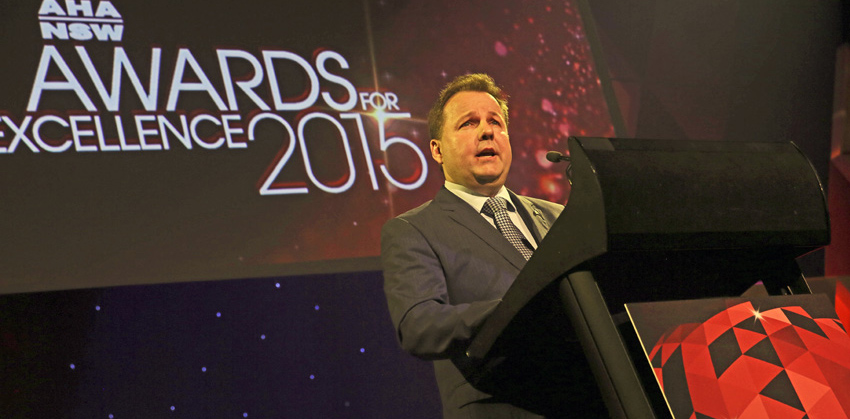 AHA NSW CEO John Whelan praised the "best in the industry" to roughly 1,000 guests – many of whom filed downstairs after the Awards to Marquee, to continue the celebrations until the early hours.
"Our venues employ more than 75,000 people across NSW, and it is great to see the hard work of management and staff honoured here tonight," said Whelan.
FULL LIST OF WINNERS BELOW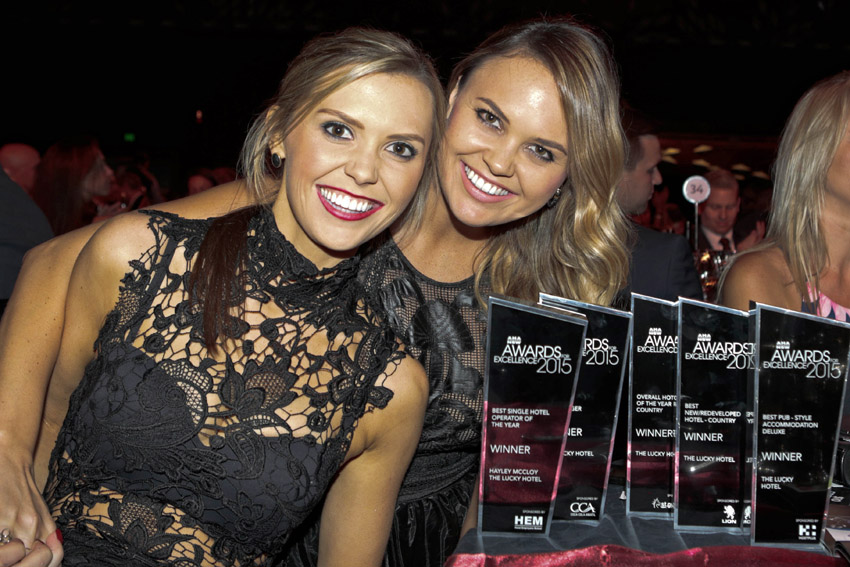 2015 AHA NSW AWARDS FOR EXCELLENCE WINNERS
BEST TRADITIONAL HOTEL BAR
WINNER: Banjo Paterson Inn, Jindabyne
BEST COCKTAIL/LOUNGE BAR
WINNER: Palmer & Co., Sydney
BEST BOUTIQUE BEER OFFERING
WINNER: The Winston, Winston Hills
BEST RETAIL LIQUOR OUTLET
WINNER: Prince of Wales Hotel, Merewether
BEST FAMILY FRIENDLY HOTEL
WINNER: Sodens Hotel, Albury
BEST OUTDOOR/NON-ENCLOSED FACILITY
WINNER: Republic Hotel, Sydney
BEST NEW/REDEVELOPED HOTEL – COUNTRY
WINNER: The Lucky Hotel, Newcastle
BEST NEW/REDEVELOPED HOTEL – CITY
WINNER: Collaroy Hotel, Collaroy
OUTSTANDING COMMUNITY SERVICE AND ACHIEVEMENT
WINNER: Belrose Hotel, Belrose
BEST PROMOTIONAL CONCEPT
WINNER: Merivale, Sydney
(March into Merivale Food & Wine Festival 2015)
BEST SOCIAL MEDIA ACTIVITY
WINNER: Watsons Bay Boutique Hotel, Watsons Bay
BEST RESTAURANT – COUNTRY
WINNER: Graze at the Willow Tree Inn, Willow Tree
HIGHLY COMMENDED
The Man from Snowy River Hotel, Perisher Valley
BEST RESTAURANT – CITY
WINNER: Ananas Bar & Brasserie, The Rocks
BEST FINE DINING RESTAURANT MAJORITY OF MAINS $35+
WINNER: est. , Establishment Hotel, Sydney
BEST CASUAL DINING VENUE COUNTRY – NORTHERN
WINNER: Junction Hotel, The Junction
BEST CASUAL DINING VENUE COUNTRY – SOUTHERN
WINNER: Duke of Kent Hotel, Wagga Wagga
BEST CASUAL DINING VENUE COUNTRY – WESTERN
WINNER: Prince of Wales Hotel, Gulgong
BEST CASUAL DINING VENUE CITY – EASTERN
WINNER: Coogee Bay Hotel, Coogee
BEST CASUAL DINING VENUE CITY – SOUTHERN
WINNER: Taren Point Hotel, Taren Point
BEST CASUAL DINING VENUE CITY – WESTERN
WINNERS:
3 Weeds Hotel, Rozelle +
The Fiddler, Rouse Hill
BEST CASUAL DINING VENUE CITY – NORTHERN
WINNER: Blues Point Hotel, McMahons Point
BEST STEAK VENUE
WINNER: Graze at the Willow Tree Inn, Willow Tree
BEST BURGER
WINNER: The Lucky Hotel, Newcastle
BEST ENTERTAINMENT VENUE
WINNER: The Golden Sheaf Hotel, Double Bay
BEST SPORTS BAR
WINNER: Kingscliff Beach Hotel, Kingscliff
BEST GAMING VENUE
WINNER: El Cortez Hotel, Canley Heights
HIGHLY COMMENDED
Kooringal Hotel, Wagga Wagga
BEST PUB TAB – COUNTRY
WINNER: Kingscliff Beach Hotel, Kingscliff
BEST PUB TAB – CITY
WINNER: V Bar, Sydney
BEST KENO VENUE – COUNTRY
WINNER: Kingscliff Beach Hotel, Kingscliff
BEST KENO VENUE – CITY
WINNER: The Fairfield Hotel, Fairfield
BEST PUB – STYLE ACCOMMODATION TRADITIONAL
WINNER: Junction Hotel, The Junction
BEST PUB-STYLE ACCOMMODATION DELUXE
WINNER: The Lucky Hotel, Newcastle
INDUSTRY RISING STAR
WINNER: Doron Whaite – Hemmesphere, Establishment, Sydney
APPRENTICE OF THE YEAR INDUCTEE
WINNER: Matthew Wills – Palings Kitchen & Bar, ivy, Sydney
COCKTAIL BARTENDER OF THE YEAR
WINNERS:
Kurtis Bosley – Collaroy Hotel, Collaroy
Taylor Scelzi – The Glenmore, The Rocks
CHEF OF THE YEAR
WINNER: Matt Kemp – Charing Cross Hotel, Waverley
BEST BATHROOM FACILITIES
WINNERS:
Junction Hotel, The Junction +
Charing Cross Hotel, Waverley
BEST INDIVIDUAL HOTEL OPERATOR
WINNER: Hayley McCloy – The Lucky Hotel, Newcastle
BEST GROUP HOTEL OPERATOR OF THE YEAR
WINNER: Redcape Hotel Group
OVERALL HOTEL OF THE YEAR – COUNTRY
WINNER: The Lucky Hotel, Newcastle
OVERALL HOTEL OF THE YEAR – CITY
WINNER: Establishment, Sydney