On Monday night over 460 guests and professionals of the hotel industry gathered to recognise the Australian Hotels Association's 2016 National Awards for Excellence.
The red carpet event was held at the RACV Royal Pines Resort and nominees from around the country were wined, dined and entertained as 43 winners across 38 categories were revealed.
The Awards are determined through the dedicated commitment and scrutiny by a dedicated team of judges, assessing nominations from an eligible pool of hotels elected by each State and Territory.
Competition is always fierce, but more so than ever in a vibrant industry vying for business amongst increasingly specialised competition. This can be seen in the fact that all States and Territories are represented in the 2016 list of the Best of the Best.
Some notable winners in the current climate were:
RD Jones Group taking out 2 major awards: Best Bistro – Metropolitan, for The Moseley and Glenelg, and Best Marketed Hotel – General Division, for the Woodcroft Hotel
Solotel's Golden Sheaf taking out Best Entertainment venue
The family-operated Lucky Hotel in Newcastle gaining Best Hotel Accommodation – General

Redcape CEO John Russell

Recently Good Food Guide Hatted the Railway Hotel, Windsor, Victoria backing it up with Best Restaurant – Metropolitan
Best Tourism Initiative and Outstanding Achievement in Training, going to Northern Territory operations Curtin Springs, in Alice Springs, and Voyages Ayers Rock Resort, in Yulara (respectively)
Redcape's Belrose Hotel taking Outstanding Community Service & Achievement
A special highlight is always the induction of "an influential and positive force" in the industry into the Johnnie Walker Hall of Fame. This year it was Melbourne-based liquor industry stalwart, Gordon Broderick.
The biggest crowns are always the Overall Hotel of the Year for Metropolitan and Regional. The standard is forcing this to be judged on nothing shy of perfection.
AHA National CEO Stephen Ferguson told PubTIC there is no room for error if a venue wants to be the best.
"Successful venues today are a combination of a great venue and facilities, a great publican, great staff and great products."
In this context, winner of Australia's best overall regional hotel for 2016 was no newcomer, already holding a cabinet of State and National awards.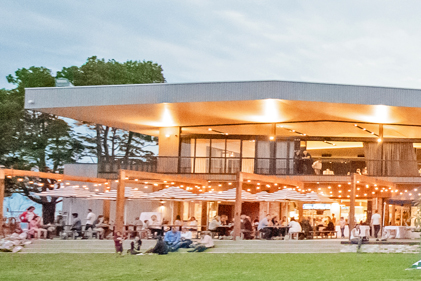 The Comiskey Group's Sandstone Point Hotel sits on unobstructed water frontage overlooking the idyllic Pumicestone Passage and Bribie Island. The huge custom-built operation includes every manor of patron amenity, including an expansive children's playground and petting zoo and concert amphitheatre.
Now open for just over a year, it joins its sister venue Eatons Hill Hotel on the winners' podium.
"It is great to be recognised with such a prestigious award," stated Group director, Robert Comiskey.
"We have a great team who put in so much effort and it is fantastic to see the recognition on a National scale. When we built the Hotel we put a great deal of thought into everything from the architecture to how the Hotel would operate, and it's great to see it all come together."
The winner of Best Overall Hotel – Metropolitan was the Victorian winner of the same award and recognises the necessity of team to get to this kind of recognition.
The Rosstown Hotel in Carnegie began a redevelopment five years ago, with the simple aim of creating a modern, comfortable pub environment for all demographics. The Nikarkis family instructed the operation needed to use excellent produce to produce great food, at a reasonable price, and with excellent, friendly service. The results have spoken for themselves.
"We have five new outdoor areas, the largest being the sports bar where we have live entertainment along with large screens showing sports, but I wanted the food and beverage side to realise its full potential," Matt Nikarkis told PubTIC.
"I was extremely proud of my staff when we won the State award for best bistro and best Overall Metropolitan Hotel late last year.
"When we received the National award for best Overall Hotel Metropolitan I was very surprised and humbled.
"Along with my general manager, Chris Thomas, and head chef, Vic Gervasi, I would like to thank all our staff for the hard work and dedication that helped us win this prestigious award."
FULL LIST OF WINNERS
1. Best Bistro – Metropolitan
The Moseley Bar & Kitchen, Glenelg – SA
2. Best Bistro – Regional
Beltana Hotel, Lindisfarne – TA
3. Best Deluxe Accommodation
Emirates One&Only Wolgan Valley, Wolgan Valley – NSW
4, Best Entertainment Venue
The Sheaf, Sydney – NSW
5. Best Environmental & Energy Efficiency Practice
Quality Hotel Downtowner on Lygon, Carlton – VIC
6. Best Gaming Venue – Metropolitan
Zagame's Boronia Hotel, Boronia – VIC
7. Best Gaming Venue – Regional
Kelly's Motor Club Hotel, Cranbourne – VIC
8. Best Hotel Accommodation – General Division
The Lucky Hotel, Newcastle – NSW
9. Best Hotel Bar – Accommodation Division
Zebu Bar + Grill, Rydges Port Macquarie, Port Macquarie – NSW
Best Hotel Group Operator Pegasus Leisure Group, Caulfield East – VIC
10. Best Keno Venue
Porters Plainland Hotel, Plainland – QLD
11. Best Marketed Hotel – Accommodation Division
Grand Hyatt Melbourne, Melbourne – VIC
12. Best Marketed Hotel – General Division
The Woodcroft Hotel, Woodcroft – SA
13. Best Meeting & Events Venue
Sheraton on the Park, Sydney – NSW
14. Best Mid-Range Accommodation
ibis Adelaide, Adelaide – SA
15. Best Outdoor/Non Enclosed Area
Mangrove Hotel, Broome – WA
16. Best Redeveloped Hotel – Accommodation Division
NEXT Hotel Brisbane, Brisbane – QLD
17. Best Redeveloped Hotel – General Division joint winner
Beach House Hotel, Hervey Bay – QLD
Collaroy Hotel, Collaroy – NSW
18. Best Restaurant – Accommodation Division
The Playford, Adelaide – SA
19. Best Restaurant – Metropolitan
The Railway Hotel, Windsor – VIC
20. Best Restaurant – Regional
Frogmore Creek, Cambridge – TAS
21. Best Retail Liquor Outlet
Shoreline Hotel, Howrah – TAS
22. Best Sporting Entertainment Venue
Crown Sports Bar, Crown Perth, Burswood – WA
23. Best Suite/Apartment Hotel
East Hotel, Canberra – ACT
24. Best Superior Accommodation
Spicers Tamarind Retreat, Maleny – QLD
25. Best TAB Licensed Venue
Kingscliff Beach Hotel, Kingscliff – NSW
26. Best Tourism Initiative
Curtin Springs, Alice Springs – NT
27. Chef of the Year
Nikhil Jain, National Convention Centre, Canberra – ACt
28. Employee Excellence in Service – Accommodation Division joint winner
Donna Musarella, Crown Towers, Melbourne – VIC
Anura Yapa, Shangri-La Hotel Sydney, The Rocks – NSW
29. Employee Excellence in Service – General Division
Lee Cleal, Woolshed Pub, Docklands – VIC
30. Front of House Employee of the Year – Accommodation Division
Jonathan Fambart, Park Hyatt Sydney, The Rocks – NSW
31. Front of House Employee of the Year – General Division
Kurtis Bosley, Collaroy Hotel, Collaroy – NSW
32. Hotel Industry Rising Star joint winners
Annabelle Gibney, Accor Hotels & Resorts, Melbourne – VIC
Drew Harry, Western Hotel, Ballarat – VIC
Michael Strom, The Gate Bar and Bistro, Perth – WA
33. Outstanding Achievement in Training
Voyages Ayers Rock Resort, Yulara – NT
34. Outstanding Community Service & Achievement
Belrose Hotel, Belrose – NSW
35. Outstanding Community Service & Achievement
Treasury Casino & Hotel, Brisbane City – QLD
36. Overall Hotel of the Year – Accommodation Division
Crown Towers, Melbourne – VIC
37. Overall Hotel of the Year – Metropolitan
Rosstown Hotel, Carnegie – VIC
38. Overall Hotel of the Year – Regional
Sandstone Point Hotel, Sandstone Point – QLD