The Merivale juggernaut has leapt into the seventh instalment of March into Merivale, showing why it holds that crown as one of the country's foremost entertainment providers.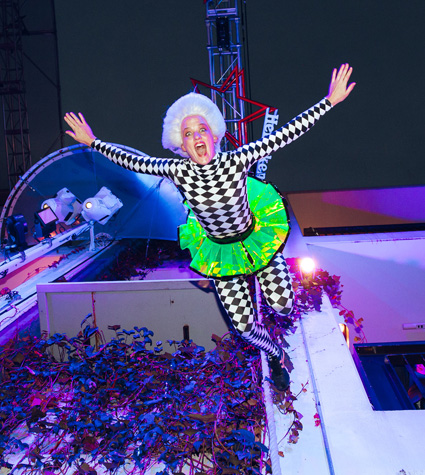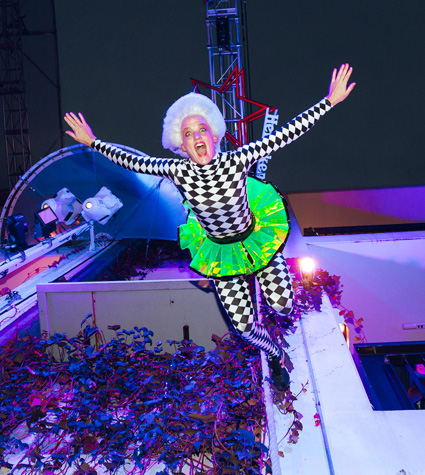 Offering up an all-singing, all-dancing five weeks of non-stop events, the 2015 March launch party took place on Wednesday night with thousands of people flooding ivy for a bonanza of banquets and beverages and bubbling flutes of Chandon.
Street musicians on stilts and acrobats on wires were just some of the awe-inspiring entertainment performing around the acclaimed inner-Sydney hotel, as delicious stalls showcased food and drinks from 20 Merivale venues.
Merivale has partnered with the acclaimed Alex Zabotto-Bentley of AZBCreative for this year's extravaganza, to produce a myriad of unique installations and activations throughout the program.
"This year, we have upped the ante to deliver a jam-packed five week festival of the senses," says Merivale CEO, Justin Hemmes.
"March into Merivale will show you how to live larger every day of the week as food, wine, adventure and surprises explode together in over 50 amazing events. I cannot wait."
Running until 29 March, MIM is serving up themed occasions to March into every night of the week.
Monday Detox: yoga sessions in ivy Pool Club to "cleanse the sins of the weekend" ahead of healthy dishes and mocktails by the likes of Papi Chulo, The Fish Shop and Uccello
Tuesday Date Night: two courses and selected fine beverages to dine and dazzle lovebirds
Wednesday Showcase: a succession of themed experiences, with Just Desserts at Establishment, Around the World with Merivale Wines and Frank Moreau at ivy, European Laneway in the ivy arcade, and Wok On! At Establishment
Savoir-Fair Thursday: a succession of Merivale kitchen masters including Peter Doyle host "their ultimate dinner party" for intimate gatherings of 22 in the ivy Private Dining Room, and Lorraine Godsmark hosts two-hour masterclasses on pastry excellence
Friday Surprise: the "zaniest after-work sessions imaginable" will take place at different venues each week that are "guaranteed to shock and surprise"
Saturday Party: a succession of uber-parties, including The Beresford's sizzling Mardi Gras Party on the night of 6 March
Sunday Brunch: flagship venues Felix, Beresford, Papi Chulo and Uccello will serve brunch "experiences" to aid recovery
Mystery Dinner: diners are invited throughout the festival to book into a mystery location – one of the Group's many award-winning and pioneering foodie haunts – for multi-course meals and wine
Tickets are available at www.marchintomerivale.com.au.
In 2014 Merivale was awarded Best Promotional Concept for the MIM festival at the AHA NSW Awards for Excellence, with ivy also picking up Best Entertainment Venue and Best Social Media there and Best Venue – Overall at the National Awards for Excellence.