One of Sydney's best-known hospitality operators has seen receivers called in to "pursue a sale process" after financial strain and lockout laws took too high a toll.
The Keystone Group (TKSG) was formed in 2000 around well-run good-time food & bev venues, with founding partners stemming from several existing pub dynasties.
Around two years ago the Group embarked on an ambitious expansion plan, moving further from the traditional pub venue, toward small bars and restaurants.
To this end, TKSG sought to purchase the existing portfolio of Pacific Restaurant Group (PRG), which operated restaurants in capitals throughout the country, including the Jamie Oliver-branded Jamie's Italian businesses in Australia, plus other premium restaurant brands Chophouse and Kingsleys.
It secured PRG via an off-market takeover bid through hospitality specialist lawyers Sparke Helmore*, overcoming "complex financing [with] time restraints" and "sensitive negotiations … over critical commercial arrangements".
This involved parallel debt financing of $80 million, which was provided by US venture capital entities KKR Asset Management and Olympus Capital Holding Asia in a debt-only arrangement.
TKSG's only freehold is the four-level Sugarmill Hotel, in Kings Cross. This is also the only venue in its portfolio that operates any gaming machines, but the 24 EGMs are not likely enough to compensate for the massive down-turn in trade experienced by all Kings Cross operators since the infamous lockout and 3am cessation regulations came into effect early 2014.
TKSG also operates high-profile venues in Darling Harbour, which has also seen significant reductions in patronage since the draconian laws were introduced in the Sydney CBD.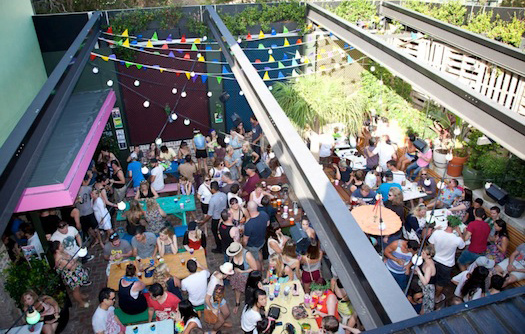 The Group – obviously under pressure to readjust operating models in the wake of the reduced business – has recently looked to free up capital, most notably resulting in the sale of the Newtown Hotel in February.
But sadly, efforts to satisfy a looming debt covenant have been inadequate, and holders of the senior debt have called in receivers Ferrier Hodgson (FH) to rescue their money.
"Keystone today is an operationally strong business with over 1,000 employees across the country, with a number of iconic venues and brands within its portfolio and a highly dedicated team," said TKSG executive director Richard Facioni in a statement yesterday.
"However, the debt raised to undertake its expansion, combined with changes to the local market, including lock out laws, have placed significant financial strain on the business.  As a result, the senior lenders to Keystone took the decision today to appoint receivers to the group to pursue a sale process."
FH reports it will soon commence a sales campaign that will likely see TKSG's venues offered to market separately or as a package.
PubTIC was unable to secure further details from FH's Morgan Kelly on the triggers for the "syndicate of lenders" who the receiver said in a statement were not able to "reach agreement with the [TKSG] board on key aspects of the Keystone Groups' financial structure".
Kelly did however tell the Sydney Morning Herald that "Given the current buoyant hospitality market, we anticipate a lot of interest in the sale of the venues".
*Both KKR and Sparke Helmore declined to comment.