Merivale has opened its latest addition – the first of four new concepts to arrive in the ivy laneways this year – Little Felix.
The newcomer to the ivy precinct channels a "sophisticated and intimate slice of 1920s Paris" in Sydney's CBD, where guests can escape the hustle and bustle of the city and lose track of time over cocktails and champagne. 
Its dark, moody interior is reminiscent of The Ritz or Harry's New York Bar, at a time when Ernest Hemingway or Zelda Fitzgerald may have been seen within.
Simple, elegant cocktails take cues from the period, aiming to accentuate the experience rather than drive it. Provenance guided modifiers to traditional recipes, such as the use of French liqueurs, for a line-up of cocktails just one step away from the original version.
"We have taken the well-known classic cocktails from the great Parisian bars and hotels of the early 20th century, and gently refreshed them to make drinks relevant today," says group bars manager Sam Egerton.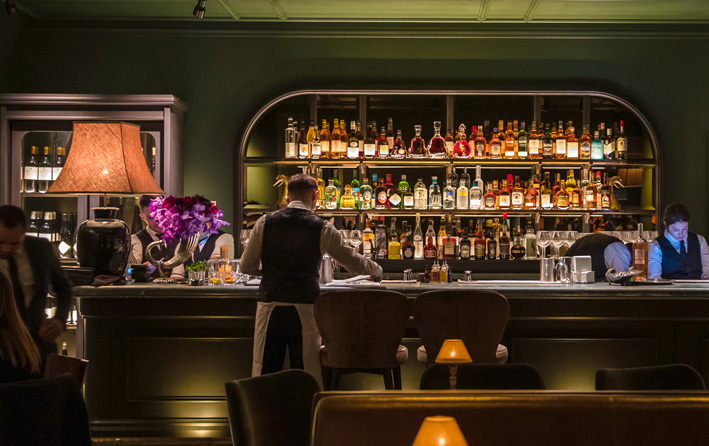 Further theatre comes by way of the wine list, curated by sommeliers MS Franck Moreau and Jean-Charles Mahe, which are served by the glass from magnums housed in a custom fridge by the bar.
"Whilst a magnum contains twice the volume of a standard bottle, its neck size and air content remain the same," says Moreau.
"This allows the wine to mature slowly, creating great nuances and more complex flavours."
Felix head chef Nathan Johnson offers a simple, elegant menu of charcuterie, cheese and tartines, using "the very best produce and fromage", to complement the French wines.
The long-awaited pedestrianisation of George Street will soon be complete, as the City of Sydney continues its push for a 24-hour CBD and the State government considers amendments to the economy-punishing lockout laws. Today Merivale CEO Justin Hemmes spoke before the Joint Select Committee, which will report to Parliament by the end of September.
But Little Felix is open. It is the first phase of ivy's re-evolution – central to Hemmes' vision to create a neighbourhood of around-the-clock hospitality, and reinvigorate Sydney's status as a world-class metropolis.