Australia's hotel industry mourns today the loss of hospitality and style icon, father of Merivale CEO Justin Hemmes, "Mr John" Hemmes.
The trail-blazing hotel group issued a solemn statement this morning, requesting their privacy be respected at this difficult time.
"The Hemmes family announce with great sadness that John Hemmes passed away last night, following a long battle with multiple myeloma. He died peacefully at his Sydney home, The Hermitage, surrounded by his family."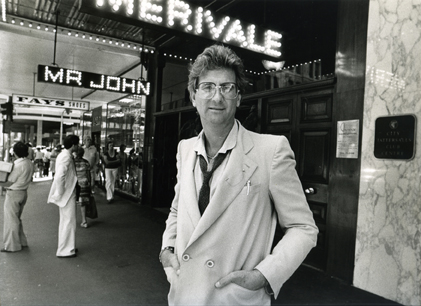 Born in 1931 in Java to Dutch parents, John Hemmes experienced the horrors of WWII first-hand, with his entire family imprisoned by the Japanese, and John separated from them until 1945 when the reunited family escaped back to Holland.
Returning from an unsuccessful attempt to find work in New Zealand at age 19, John met a young woman named Merivale, boarding in Sydney en-route to Paris. By the time the ship docked in London they were engaged, and shortly wed.
Within a year John and Merivale were back in Sydney, living humbly in a converted garage in the back of her parents' home in Burwood. By 1957 they opened their first shop, selling Merivale-designed hats, and later clothing. Soon after they opened the first House of Merivale in Sydney, which would go on to operate three stores in Sydney's Pitt Street, two in Melbourne and one in Canberra, and bring the concept of the specialty fashion boutique to Australia's staid fashion scene.
Recognising the emerging market for men's fashion, John launched the "Mr John" label, for which he became synonymous.
In 1970 John purchased 194 Pitt St, opening his first foray into hospitality with the Thai Tea Café. Later ventures included the Angel Hotel and Merivale restaurant, as changing retail conditions forced him to reorient the business toward more opportunities. The last House of Merivale outlet closed in 1996.
Today, under the leadership of chief operating officer, son Justin, and John and Merivale's daughter Bettina as a director and designer, the family business is an industry-leading spectacular, with a growing portfolio of more than 50 offerings in Sydney.
In 2013, John and Justin Hemmes became the first father and son duo inducted into the NSW Australian Hotels Association Hall of Fame.
President of the AWHA NSW, Scott Leach, added his condolences.
"This is a terribly sad day for the industry. We have lost a true icon."
The Hemmes family would like to invite all who wish to pay their respects to John to join them at Ivy Ballroom, 320 George Street, Sydney between 4pm and 6pm, Friday 6 March 2015.
They have requested that instead of flowers, donations are made to the Royal Prince Alfred Hospital LALTHAM Fund, supporting blood disease research and patient care.