Hailed as one of the top 20 beer festivals in the world, the 2018 Great Australia Beer SpecTAPular will see spirits introduced to the line-up.
Hosted in Melbourne, Sydney and Auckland, the 2018 GABS event is presented by Dan Murphy's, and organisers expect to enjoy crowds of over 35,000.
It all started seven years ago at Melbourne's The Local Taphouse, with 22 brewers invited to craft a new beer. This year, 170 different brewers have accepted the challenge to offer one-off festival flavours.
These are original and push the boundaries; in 2018 unique ingredients include Tasmanian jam, toasted marshmallows, rhubarb, Skittles, ice cream, dates, yuzu, gin, Bertie Beetles and even snails, crickets and oysters.
Blackman's Brewery in Victoria have crafted a dry-hopped gose style beer with Great Ocean Road snails, parsley, thyme and pine nuts while Aether Brewing in Queensland  have taken a sweeter direction and used dark chocolate to make a smoked cherry double choc brownie sweet stout.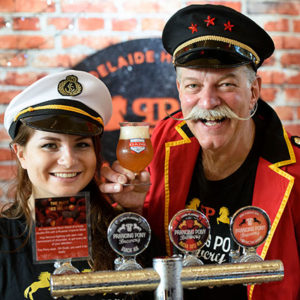 A celebration of craft beer and cider, Craig Williams, GABS Event Director, says, "For the brewers, it's a chance to showcase the quality, creativity and diversity of styles inherent to craft beer and cider. And for beer lovers … well, it's kind of like Christmas really!"
There are plenty of favourites making a return to this year's festival, such as the 18-metre indoor Ferris wheel, and tunes courtesy of GABS house band The Ale Capone.
Little Creatures LIVE travelling roadshow will delight the crowd with their acrobats, while a giant jenga challenge should test its participants.
There will be blindfolds as guests taste-test and even a silent disco, where dances don a pair of headphones and tear up the dancefloor.
New arrivals to the GABS festival include a cheese and prosecco bar, though with a twist, as these 'washed rind' cheeses are washed in beer, whisky and wine.
In further news, in Melbourne Starward and Four Pillars distillery will be serving barrel-aged whisky, gin and cocktails, while in Sydney and Auckland Irish distiller Jameson will be exhibiting its Caskmates range, where its whiskey is aged in beer-seasoned barrels.
My Dan Murphy's Discovery Deck is new for the exhibits, guests invited to 'find their perfect beer match' through guided tastings of various styles.
Putt-Putt gets a modern shake up with the introduction of Holey Moley and their collaboration with Colonial Brewing Co. Expect some quirky mini-golf holes.
Craig Williams stated, "We like to think of GABS as much more than a beer festival; it's an experience. And every year, we like to raise the bar on what that experience can be. It's about looking at the world around craft beer and bringing that to life in a fun way, whether that's through Holey Moley's hugely popular mini-golf bars; Milawa cheeses washed with beer, wine and whisky; or a boilermaker pairing whisky and beer."
The celebration of craft beer and cider will include an array of masterclasses and free seminars.
A full list of the GABS special brews and event details can be found at www.gabsfestival.com
MELBOURNE
Royal Exhibition Building, Carlton Friday 18 – Sunday 20 May 2018
SYDNEY
Sydney Showground, Olympic Park
Saturday 2 June 2018