Melbourne police are hunting two suspects who fired shots into a crowd, killing a security guard, at Prahran late-night venue Love Machine.
Shortly after 3am Sunday morning as people queued outside the Melbourne nightclub, a stolen black Porsche Cayenne drove down Little Chapel Street, turning onto arterial Malvern Road, stopped and fired at least four shots before turning right and taking off down Bray Street.
Four men were wounded in the surprise attack, most critically security guard and father Aaron Khalid Osmani, who was rushed to hospital but later pronounced dead.
A 28-year-old man remains in critical condition, while two men aged 29 and 50 each sustained non-life-threatening injuries.
A 20-year-old woman was also taken to hospital, believed to have hit her head on the ground when everyone ducked for cover.
The stolen Porsche SUV seen leaving the area was discovered on fire in Wollert around two hours later, and two offenders were glimpsed on CCTV fleeing the scene.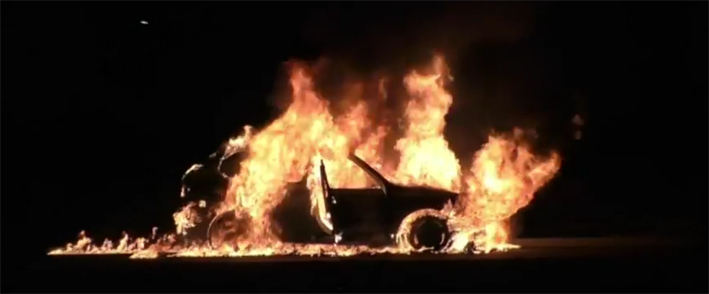 Reports have emerged that outlaw motorcycle gangs, particularly the Comancheros, have been attempting to stand over parties involved with Love Machine and Lux nightclub, on Chapel Street.
Both are owned by Dhir Kakar, with backing by a consortium of local and Indian investors.
Gang members have reportedly menaced the venues in recent months, threatening staff and patrons and not paying for drinks, prompting new security at Lux this month.
Police are investigating a possible connection between the extortion attempts and the shooting, and whether the perpetrators were potentially inside the venue earlier in the night. Detectives are hoping for witnesses of the drive-by vehicle.
"It was 3am in Prahran so there's a lot of people around," noted Detective Inspector Andrew Stamper.
"So anyone who may have seen the car moving at speeds down the back streets or even down the main streets of Prahran, please get in touch with us."
Figures from Victoria's Coroners Court found March to be the worst month in a decade for shootings in Victoria, recording five deaths in four separate incidents in less than two weeks.
Premier Daniel Andrews suggests the government will "stand ready" to reform gun laws if the police commissioner says he needs more control.
Social media has seen an outpouring of emotion for the deceased guard, described as a gentle, caring man with "a beautiful soul". A crowdfunding page has been set up in Osmani's memory, pledging support for his family.
Management of the Love Machine issued a statement expressing their shock and sorrow at what happened outside their venue.
"Our thoughts are with the victims, their family and friends during this very difficult time."
The venue continues to work with authorities, and is scheduled to re-open Thursday (18 April).