Dan and Janine Redman have ended two decades defining hospitality with the big-ticket sale of their beloved George Tavern Greenhills to Chris Thomas and Thomas Hotels.
The George is a big, friendly pub on the New England Highway through Greenhills, 30-minutes north-west of Newcastle, on route to Maitland.
Dan and Janine entered the pub game back in 1998 as silent partners in the business. Previously they had run a local company offering accounting and business development.
In 2004 they took over operations and have not looked back, growing the Tavern into the pride of Greenhills and themselves into quintessential publicans.
A major renovation in 2010 pitched the George at local families and ladies, while embracing the everyone mantra 'Your Local Pub'. Faithful regulars kept coming in throughout works, as tradies created noise and dust.
The George has also adopted a major focus on community support and fundraising, offering weekly draws and raffles to local community groups collectively netting hundreds of thousands of dollars for worthy causes. In 2016 it drove a fundraiser for former bar manager Dom Punch, after he suffered a life-changing injury playing football.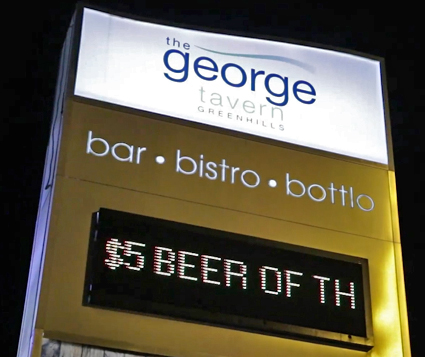 This dedication earned the Redmans and their family of staff the honour award of Heart of the Community from the AHA NSW in 2016, going on to take it at the following National Awards. 
In an interview with the Hunter-Newcastle branch of the AHA, Janine says running the hotel has changed their lives and "been more than a business".
"We'd like to think the community support we've been able to provide has also had a positive impact on the lives of people around us."
Humble to the end, Janine says their patrons were what made the success possible.
"Whatever or whoever it is we wanted to support, they always showed up, dug deep and were willing to help.
"We've been the platform, but they are the heart behind it."
Finding their attentions drawn to aspects of life beyond living and breathing a large regional pub, the couple engaged Newcastle-based Deane Moore of Moore & Moore Real Estate to find "the right buyer" through an off-market campaign.
"It was just time for them to move on, to spend more time with the family," says Moore of the sale.
"It was a great result for such a large asset."
While the final price was not disclosed, sources close to the deal report it was circa $25 million – making it potentially the highest price paid for a hotel in the Newcastle-Hunter region.
The Redmans felt their "baby" was in good hands with Thomas Hotels, which has expanded in the area with acquisitions such as the Premier Hotel from Rolly de With.