A Brisbane Councillor has stirred up an Australia Day brouhaha after criticising CLG's Fox Hotel for promoting its Colonial IPA – likening colonisation to the Holocaust.
Cr Jonathan Sri is Brisbane born and raised, and entered politics with a desire to effect change for under-represented minorities, after studying law and spending time with Aboriginal communities as a 'cross-cultural mediator' and ESL (English Second Language) tutor.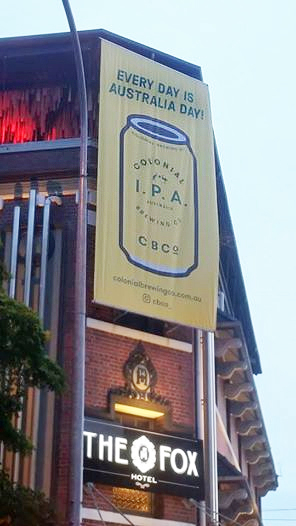 His perspective prompted him to contact The Fox in regards to a prominent poster for Colonial IPA – produced by Colonial Brewing Company, a subsidiary of the pub's owner, Colonial Leisure Group (CLG) – which offered that "Every day is Australia Day".
The Councillor then chose to post "in case anyone's interested" about the complaint on social media, effectively politicising the controversial subject of many native Australians' disapproval of celebrating colonisation in 1788.
Perhaps worse still, Cr Sri chose to throw shit into the proverbial fan by likening Australia's settlement to the German atrocities of WWII.
"Words like 'colonisation' can (and perhaps should) be understood as having the same gravity as words like 'holocaust'.
"Putting the words 'Colonial Brewing Co.' on an Australia Day banner is perhaps not the most tactful way to send a positive message about an inclusive Australia."
Sri's Facebook post has thus far garnered over 850 comments, largely condemning his bringing race into a simple ad for beer.
"I'm 1/2 Aboriginal," said Steve Magro. "No black fellas like me are complaining just white fellas thinking we might…
"We are all human beings some people like to stir up shit. Last time I checked this page was about beer not divide and conquer."
The Councillor has gone into damage-control, admitting he cannot read and reply to all comments, but issuing a general response asking "everyone calm the fuck down".
While some respondents did express disappointment with the CLG ad, many said Cr Sri's comment was creating a problem where there was not one, and many suggested they would now make a point of visiting The Fox and/or seeking out Colonial brews.
CLG purchased The Fox in July last year – it's first venue in Queensland. Un-phased by the attack, a formal statement in response to the furore was issued via Colonial Brewing Co.
"We're not just proud of our history, we're also proud of our beers. We celebrate that our I.P.A. is 100 per cent Australian owned, Australian made and drunk by Australians all across the country.
"We celebrate that we're creating Australian jobs and supporting Australian producers.
"We celebrate that we've made a beer that we think is perfect for every single day of the year.
"We are excited to share our story and our beautiful country together."
What has been seemingly lost in the backlash, Cr Sri does in fact ponder whether the Colonial IPA poster in question could actually be a chance to "think about how every single day is a chance to build a kinder, fairer society".
Having misconstrued Colonial as representing the "invasion" referred to in anti-Australia day campaigning, rather than simply its owner's craft beer homage to tradition, at least the Greens Cr entertained the notion that "every day" does de-emphasise 26 January.
Meanwhile, every day is still a good day for beer at the pub.