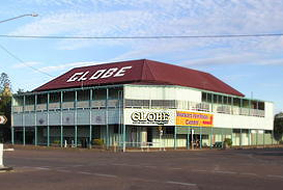 The century-old Globe Hotel has been revived at the hands of a multi-million renovation, as a hub of the town of Barcaldine.
Last Thursday the central-west Queensland town, around 600 kilometres inland from Rockhampton, saw the classic two-storey Queenslander hotel reopen as The Globe Visitor Information Centre.
The 1910 pub closed a few years ago, and was subsequently purchased by Barcaldine Regional Council. Council spent $2.5 million on the restoration of the building, which now includes an art gallery, function space and historic display.
The building's classic styling and structure has been retained, only with select contemporary enhancements, including a new veranda and foundations. In the future a library and theatre will be added to the operation.
Barcaldine was a focal point in the 1891 shearer's strike, and went on to become part of the Australian labour movement and birth of the Labor Party.
The historic Globe Hotel has always been known as "the worker's pub" and was owned and operated by Pat Ogden and wife Clare from 1970 until its closure in 2011.