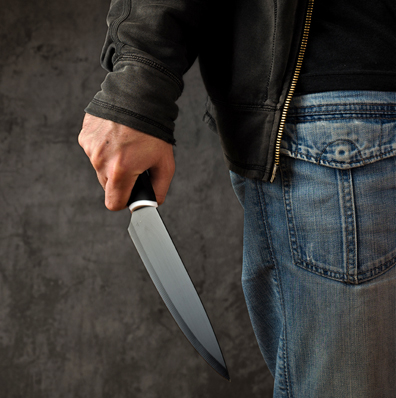 In what could have been a scene from underbelly, a pack of nightclub bouncers from Melbourne's upmarket CQ Hotel chased down and nearly stabbed to death a patron with his own knife.
Career bouncer Remzi Orcanoglu was granted bail in Melbourne Magistrates' Court Tuesday, facing charges including 'intentionally causing serious injury with gross violence' after he and at least two others were involved with Cinar Peker being stabbed eight times, to the head and abdomen.
Police report they suspect Peker had earlier been denied entry to the nightclub, before returning around 4:30 am on Good Friday with a knife, slashing one of the bouncers, inflicting a minor wound.
Reports say up to ten bouncers chased Peker a couple of blocks down Queens St, where he was stabbed multiple times with his own knife, then carried back toward the club and left in a laneway.
The incident was caught on CCTV by a bank and a taxi as well as a nearby bystander, who was accosted by the bouncers and his phone stolen in an obvious attempt to cover up what had happened.
Yesterday the Melbourne Court heard through Orcanoglu's defence lawyer Charlie Nikakis that his client's house had been shot at more than eight times, and that Peker had convictions for violent crime.
CQ bouncers Yusuf Ozenoglu and Sinan Akkurt are facing similar charges and were also granted bail, and confirmed police suspicions of a feud between Orcanoglu and Peker, reportedly telling Detective Senior Constable Blake Amos there would be 'blood for blood'.
Peker has refused to cooperate with police, and declined to provide a statement. He remains in The Alfred hospital in a serious but stable condition.
PubTIC contacted management of CQ Melbourne in the hope of a statement on the matter, but a response was not received in time for this publication.