The Bayfield family is celebrating its 40th anniversary in pubs, keeping up business as usual, fighting cancer and brewing ale.
On 27 March this year it will be 40 years since the family took possession of the Dee Why Hotel, which they still own and operate, along with their adjacent Bayfields Liquor Superstore, online business, and completely refurbished Light Brigade Hotel, Paddington.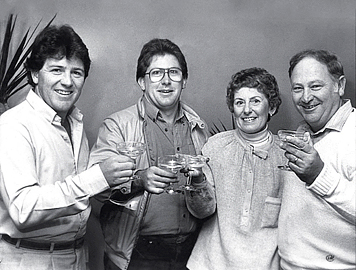 The late Neville Bayfield, along with sons Wayne and Mark, built a considerable portfolio that for 24 years included the landmark Newport Arms, until the family sold it to Merivale in early 2015. Bayfield Hotels has down-sized somewhat, but retains its head office and original pub at Dee Why.
In 2015 Wayne's son Kaine took over operations of the group, and beyond overseeing the redevelopment at the Light Brigade, has continued the family's legacy of charitable pursuits, most recently backing up for the second year a 'dare the boss' challenge that saw him wearing a python around his neck for Childhood Cancer Awareness month.
This brought the family's total for the Children's Cancer Institute Australia to over $2.7 million, over 16 years, adding to their support of local schools, sporting teams and hospitals, and $2.2 million contributed to Warringah Rugby Club in sponsorship over the past 30 years.
Bayfield family patriarch, Wayne Bayfield, began at the Dee Why on his 19th birthday* and is still there "at work every day" and happy to see another big anniversary.
"When I started, we had three beers on tap – now over 40. No TAB, no pokies, no entertainment, not even a ladies' toilet in the public bar, just counter meals and a small drive through bottle shop."
"Proudly family-owned and operated on the Northern Beaches, we are honoured to be celebrating this milestone. We couldn't have done it without our dedicated staff, and the ongoing loyalty and support from our customers, so we thank you."
In celebration, the Dee Why Hotel will be treating patrons to some nostalgic flash backs, and has teamed up with White Rabbit to offer the exclusive '1977 Pale Ale' for a limited time.
*See September, 2016 PubTIC Magazine for an in-depth interview with Wayne Bayfield