Ending more than a year closed, the iconic Exchange Hotel in Balmain has reopened with a pioneering business model, new concept and new first-time publican operator.
The landmark pub dominating the corner of classic Balmain arteries Beattie and Mullens Streets was built for the local working-class populace back in 1885.
Struggling recently to find its place in the gentrification of the precinct, the doors closed in April 2017 amid howls of protest, and the likes of Mayor Darcy Byrne lamenting its loss. In a suburb boasting over a dozen classic public houses and a median house price well north of a million bucks, the old-style backstreet pub failed to justify its property value.
For the past seven years Ideal Space has specialised in converting properties into shared workspaces. Founder David King has brought the business to multiple inner-Sydney locations, and took on the Exchange, transforming swathes of the multi-level venue into a variety of open-plan office spaces.
But spying an opportunity to add another element to the mixed-use solution, King has now re-opened the 130-year-old pub for business and pleasure, inviting professionals, families, and even four-legged friends.
The grand Victorian pub is serving quality beverages, including aperitifs and uniquely crafted cocktails, alongside the brews of local taphouses and selections from Australia's esteemed wine regions.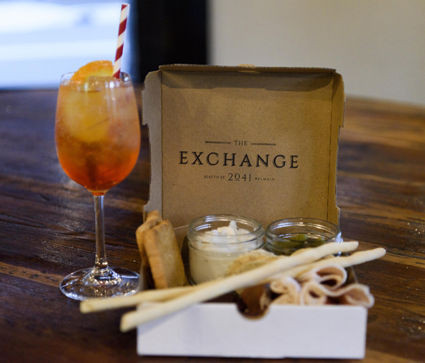 The short but sweet menu consists of classic pub-style choices and share plates, with a charcuterie board and cheese selection, or one of seven handmade oven roasted pizzas with fresh Italian Mozzarella. Recognising the wisdom of temptation, also on offer are the 'donut fries' with molten Nutella, and a twist on the classic S'more.
Beyond the traditional front bar, the plan is to create a bistro dining area in the former function room.
Unphased by the weight of expectation on the inner west institution, King is eager to bring his first pub to the people, with an eye on a business that is sustainable.
"It is a little scary, but an exciting challenge," he replies.
"Balmain definitely is the pub capital (or once was!), however I am very motivated to get it right for the locals. The locals will keep us in business, so their desires will be met.
"It is a shame to see so many venues close, as they are part of the fabric of Balmain. We will be keeping it simple, but hopefully getting it right to ensure that The Exchange is still here in years to come."