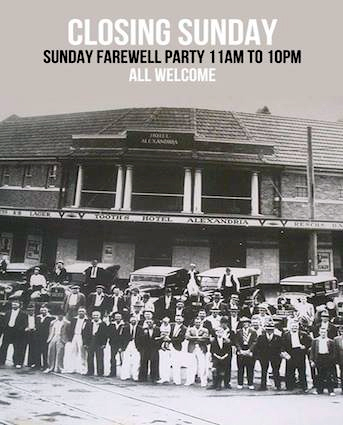 Despite community outcries and temporary injunctions, the Alexandria Hotel will close for good this Sunday.
Purchased by part of Centennial Property Group plans already lodged will see the pub demolished to make way for an $8 million development, with 28 apartments over four storeys, above commercial space on street level.
The Hotel was built by Tooth and Co in the 1920s on a location that has been a hotel since the 1870s, and the building has been called historically significant as it is Alexandria's architectural last link with its pre-war industrial heritage.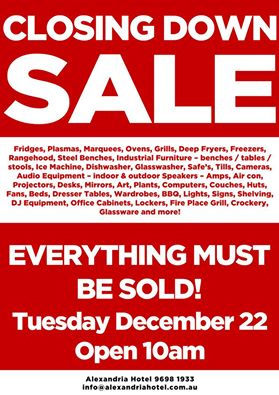 The development application was on public exhibition at the City of Sydney Council, and despite efforts by local community groups to preserve it, on Wednesday evening the Hotel quietly announced its closure with a "Farewell Party" to take place this Sunday, and an "Everything Must Go" fire sale on Tuesday.
The pub has been lease for 15 years by former Swans forward Darren "Harry" McAsey, who has turned it into the unofficial home for Swans fans.
Having chosen to forgo poker machines and trends in food & bev to maintain the football focus, the residential value has overtaken that of the hotel business in the highly competitive city fringe district.