The AHA SA held its Awards for Excellence this week, with plenty of cream rising to the top and the Lion again leader of the pack.
Adelaide's Entertainment Centre hosted the Awards on Tuesday night, with the best of the State's hospitality industry represented and acknowledged.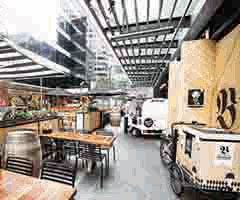 Nominees competed across 32 categories, with the winners going on to be considered at the AHA National awards in September, on the Gold Coast.
There were many stand-out performances, such as ALH's reinvention of the heritage-listed Gepps Cross into the Coopers Ale House and the Beach Hotel Seaford's amazing Kids menu. Also RD Jones Group's work at The Moseley, awarded Best Marketing & Promotion for its dedication to social media, PR and events to promote the venue and its offerings.
The Hurley Group naturally brought its A-game, picking up three awards and two commendations, for Best Entertainment Venue at the Alma Hotel, Best Bar Presentation & Experience – Country at the Port Lincoln Hotel, and Best Mid-Range Accommodation at the Tonsley Hotel.
"We are excited to win the awards," principal Jenny Hurley told PubTIC. "We put a lot of effort into upgrading our facilities, and providing good service and entertainment, and quality local produce."
But the king of the night was North Adelaide's Lion Hotel – picking up three awards, including Best Overall Hotel for the third time.
Its award for Best Restaurant was said to be due to its "local produce, constant innovation and exceptional service … showcasing the very best of what Adelaide has to offer".
Furthering its accolades for Best Function Operation/Facility, the judges praised the Hotel's innovative dining experience, busy bar and fantastic outdoor spaces: "the Lion covers what a good pub should be".
A beacon of consistency, the Hotel also won the Best Overall award in 2009 and 2013.
"Congratulations to Tim Gregg and Andrew Svencis, and their team at The Lion for their very well-deserved win," beamed AHA SA CEO Ian Horne.
"South Australian hotels provide patrons with a great range of food and beverage, entertainment, quality accommodation and excellent service.
"There is no doubt that South Australian hoteliers and their staff should be proud of the services and facilities they offer."
2017 Awards and Winners
Best Draught Beer Quality Award – Metropolitan
Joint winners: The Barker, Cathedral Hotel
Best Draught Beer Quality Award – Country
Winner: Mount Gambier Hotel
Mid-Range Accommodation
Winner: Tonsley Hotel
Apartment/Suite Accommodation
Joint winners: Crafers Hotel, Superior Hotel Accommodation, Crowne Plaza Adelaide
Judges Commendation: Clare Country Club
Deluxe Hotel Accommodation
Winner: The Playford Mgallery by Sofitel
Bistro /Casual Dining – Country
Winner: Sevenhill Hotel
Bistro /Casual Dining – Metropolitan
Joint winners: Crafers Hotel, Warradale Hotel
Judges Commendation: Oxford Hotel, North Adelaide
Restaurant – Accommodation Division
Winner: Mount Lofty House – Hardy's Verandah Restaurant
Restaurant – General Division
Winner: Lion Hotel, North Adelaide
South Australian Premier's Commendation for 'Healthy Meal Choices for Children'
Winner: Beach Hotel, Seaford
Bar Presentation & Experience – Country
Winner: Port Lincoln Hotel
Bar Presentation & Experience – Metropolitan
Joint winners: Cathedral Hotel, Uraidla Hotel
Judges Commendation: Exchange Hotel, Gawler
Outdoor or Non-Enclosed Facility
Winner: Feathers Hotel
Live Music Venue
Winner: Governor Hindmarsh Hotel
Judges Commendation: Arkaba Hotel
Entertainment Venue
Winner: Alma Tavern, Norwood
Sporting Entertainment Venue
Winner: Warradale Hotel
Community Service & Support
Winner: Renmark Hotel
Marketing & Promotion – General Division
Winner: Moseley Bar & Kitchen
Tourism & Regional Promotion
Winner: National Wine Centre
Judges Commendation: Innamincka Hotel
Environmental Practice & Energy Efficiency
Winner: Ibis Adelaide
Gaming Venue – Country
Winner: Vine Inn Barossa Community Hotel
Gaming Venue – Metropolitan
Winner: Maylands Hotel
Function Operation/Facility – Specialist & Accommodation Division
Winner: Adelaide Oval SMA
Function Operation/Facility – General Division
Winner: Lion Hotel, North Adelaide
Retail Outlet – Stand Alone
Winner: East End Cellars
Retail Outlet – Attached
Winner: The Pickled Duck
Judges Commendation: Pretoria Hotel, Mannum
Small Venue
Winner: Pink Moon Saloon
Redeveloped Hotel – Metropolitan
Winner: Coopers Alehouse, Gepps Cross
Staff Development & Training
Winner: National Wine Centre
Apprentice Development & Training
Winner: Hilton Adelaide
Hotel Industry Rising Star Award
Winner: Josh Gorman – Hilton Adelaide
Best Overall Hotel
Winner: Lion Hotel, North Adelaide