The trend-setting beer doyen of Sydney's Northern Beaches has opened another venue, set to take consumers of fine ales on a new journey of learning and aged goodness.
Manly's 4 Pines has been pushing the envelope of beer production for nearly a decade, and beyond its success in pubs throughout Australia now boasts four premises of its own – adding 4 Pines Public House to its existing portfolio, comprising the Brookvale brewery and Truck Bar, the original Manly BrewPub, and the recently opened Unground eatery, also in Manly.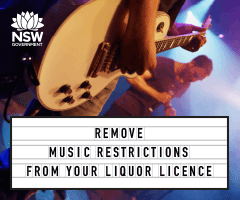 4 Pines Public House, up the peninsula in Newport, is one of the first licensed venues in Australia to specialise in barrel-aged beer concepts. The used vessels take existing 4 Pines beers through a further two processes, needing anywhere from six to 24 months to mature.
The brewer cites two main challenges with the process: finding suitable barrels, and "not drinking the beer and leaving it long enough to let it age – preferably in the aforementioned barrels".
Under the strict supervision of brewer Garrett Sherman, these challenges have been successfully overcome.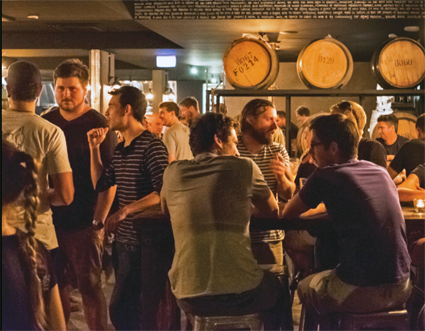 Up to 20 formulations can be seen maturing away in the pub at any given time, in one of the three foeders "AKA bloody big barrels" that constitute the first stage, or a former wine, rum or whisky barrel, which imparts flavour and continues to change the beer, even when it's kegged or bottled.
Complementing the initial two aged brews available exclusively at the venue, 4 Pines is releasing its first bottled version of a barrel-aged – Jean Claude Van Lambic: a golden ale aged in Muscat barrels.
"Drink it now and you'll enjoy the blended aromas of cherry and orange leaves, with the subtle addition of light, buttery overtones, or return to Public House in a few months to try it again and it will give you glutes as well-rounded as the rings of Saturn, and a Belgian accent that will make you the only martial artist/super-agent the CIA wants to work with ever again."
Public House backs up the barrel beer with a selection of 'other' drinks such as cocktails (infused with 4 Pines and Brookvale Union), and Australian wine and craft spirits to ensure the "heathens who favour merlot … can sink a few as well while you enjoy the good stuff".
There is also a delicious and comprehensive menu offering selections from the BrewPub and new Unground menus, courtesy of head chef Adam Rust.
Manly's most favourite brewer told PubTIC why the big deal on barrel-aged.
"The Aussie beer lover has an ever-evolving taste palette, and the 4 Pines team love the challenge of meeting that. The barrel-aged beers are a journey we want to take everyone on.
"At 4 Pines we continue to make beers that we love and believe others will love as well. And that's exactly why this barrel-aged beer focused concept came to life. One of our brewers had a real passion for barrel-ageing and he led a broader team in developing some barrel-aged beers, which were really good.
"So we wanted to give these beers their own platform, and the result is Public House Newport."
The Public House Newport is open every day for lunch and dinner.