If you haven't yet heard of it, you're not alone, but poké is slowly making waves across our shores.
Pronounced "poh-kay," this Hawaiian dish has been dubbed as the new healthy trend food. With its Japanese influence, it can be described like a deconstructed sushi roll, but prettier, with an array of bold colours and exotic flavours. The food craze is spreading, with some 324,047 Instagram hashtags last year for "pokébowl". MTV even announced poké as the dish of 2017.
Originating in Hawaii in the 70s, poké is a staple food there, and is sold in grocery stores. It became a popular menu item in the US in about 2012, but was only introduced in Sydney about two years ago. While Australia has been slower to catch on, there are now poké devoted eateries dotted around our major cities, proving this is not just a fleeting fad.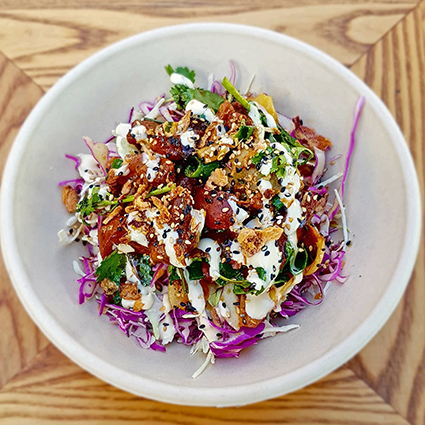 "Although it is still in growing stages we feel it is definitely here to stay," says Simon Sandall, consultant chef with the Feros Group. The Prince Hotel, in Sydney's Kirrawee has a dedicated poké kiosk for their customers, offering poké bowls alongside the usual pizza, pasta and steak menu options.
Patrons can enjoy their poké bowls with bases such as Atlantic salmon, teriyaki chicken, yellow fin tuna or tofu to choose from. All are mixed with a Japanese-inspired salad and condiments, served up with brown rice and cabbage. It is described as a very fresh, healthy-tasting dish, with a Japanese feel, thanks to its clean seasonal flavours.
Sandall says, "Poké is a great new healthy food offering that has really taken off … we thought it would be a great addition to our menu at The Prince in Kirrawee, because it's a lighter option to the normal pub fare."
Sandall acknowledges poké bowls are only continuing to grow in popularity, "This year we have sold over 3,000 poké bowls, with the most popular being the teriyaki chicken poké, which is flavoured with sesame, ginger, shallots and coriander, followed by the salmon poké with red onion, beetroot, wakame, tabiko and nori.
"Our poké bowls were introduced as the fad kicked off, but have since cemented themselves as key items on our menu that are definitely here to stay."